180° 3D Videos
We have two types of VR scenes. The first is recorded with two cameras in a way that mimics the way human eyes see. Shooting in this way gives our videos a 3D effect that will put our Yanks Girls right in front of you to enjoy. It will change the way you think of video forever.
HEAD TRACKING
VR Head Tracking enables your VR device to know where your head is within the virtual environment of the video. This means when the position of your head changes by nodding, tilting or shaking, what you see on screen adjusts as well.
360° Videos
In addition to our 180° 3D videos, we also offer 360° monoscopic videos. You can now be the virtual fly on the wall in the room WITH her. It's your dream come true! Shot with ten 4k cameras, these scenes put you IN the room with your favorite Yanks Girls, allowing you to watch in person.
The Brand You Love
Since 2002 Yanks has been a leader in creating sexy, natural, amateur porn. YanksVR is the next step in that evolution. YanksVR brings the girls of Yanks into your world and you into theirs in a way that will simply blow your mind. Always 100% female produced, YanksVR is the evolution of amateur porn.
Sinn Sage Drives Amber Chase Wild
February 21, 2018
Sinn Sage is an absolute joy to watch. Enjoy this POV video as she gives Amber Chase some sexy eye contact, dirty talk, and of course lots of fabulous fucking.
Alisha Adams' Pretty Pink Slit
February 17, 2018
Alisha Adams shows off her pretty pussy in this video as she shows us her favorite way to have an orgasm. With slow, calming motions she pleases herself with a hitachi wand until she has pleasantly cummed and is ready for a nap.
Emily Blacc's Creamy Pussy
February 13, 2018
Emily Blacc has a way of fucking herself just right, all while showing you how she talks dirty to herself. The beautiful part of this video is how absolutely creamy she gets, making her pussy glisten and her vibrator slide in and out of her vagina with perfect ease.
FREE 3D VR PORN DOWNLOAD
Eden Rose Wet Orgasm in 3D
Eden Rose has discovered a new toy and it makes her pussy so wet. Enjoy her sensual orgasm as this 3D virtual reality porn video puts you right between her legs!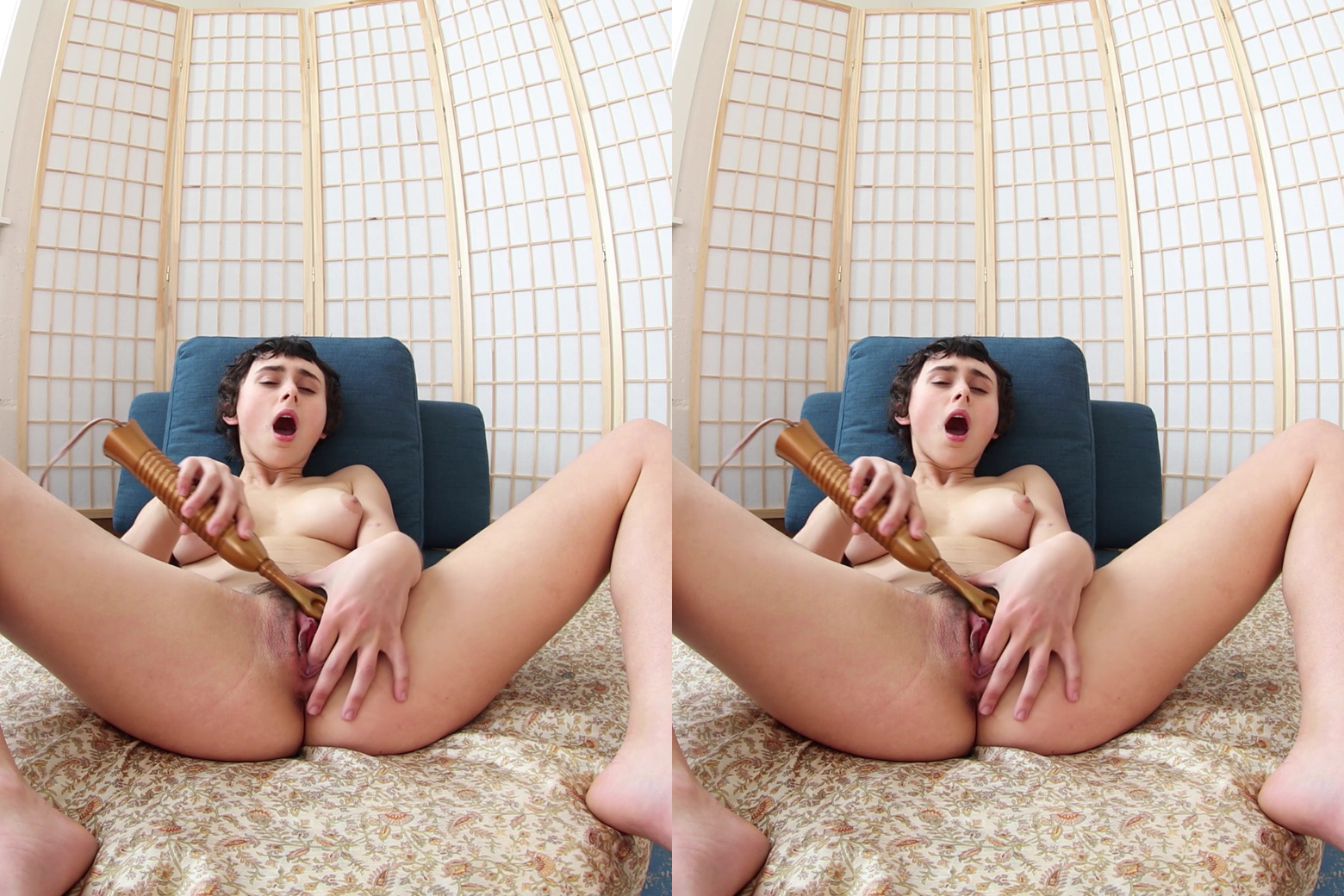 3D Virtual Reality lesbian porn is shot so that you can almost reach out and touch your favorite Yanks Girls. When she shudders with a toe-curling orgasm from a skilled lesbian tongue, you will experience it in 3D. The only way to get closer to the VR lesbian action is to be there. It's amateur orgasms up close and personal.
Midori Black Doggy Style
February 9, 2018
Midori Black puts her vibrator necklace to good use in this sexy video. Enjoy as she gets into her favorite position - doggy style - to work her clit. The view from behind with her ass in the air gives you a phenomenal view of her perfect, hairless pussy as she teases her clit and has a powerful orgasm.
Carmen December's Huge Orgasm
February 6, 2018
Carmen December wanted to cum so badly, but she was feeling pretty lazy and didn't want to work for it. Everyone can understand that! Thank goodness for her powerful Magic Wand vibrator. All she has to do is turn it on and set it on her clit and let the orgasms wash over her. Watch as Carmen gets so wet and creamy and has a luscious deep orgasm. Watch her pussy contractions in VR!