180° 3D Videos
We have two types of VR scenes. The first is recorded with two cameras in a way that mimics the way human eyes see. Shooting in this way gives our videos a 3D effect that will put our Yanks Girls right in front of you to enjoy. It will change the way you think of video forever.

HEAD TRACKING
VR Head Tracking enables your VR device to know where your head is within the virtual environment of the video. This means when the position of your head changes by nodding, tilting or shaking, what you see on screen adjusts as well.

360° Videos
In addition to our 180° 3D videos, we also offer 360° monoscopic videos. You can now be the virtual fly on the wall in the room WITH her. It's your dream come true! Shot with ten 4k cameras, these scenes put you IN the room with your favorite Yanks Girls, allowing you to watch in person.

The Brand You Love
Since 2002 Yanks has been a leader in creating sexy, natural, amateur porn. YanksVR is the next step in that evolution. YanksVR brings the girls of Yanks into your world and you into theirs in a way that will simply blow your mind. Always 100% female produced, YanksVR is the evolution of amateur porn.
Stephie Staar Spectacular Squirting
March 21, 2018




Stephie Staar throws her legs behind her shoulders and gets to work on her lovely clit with her favorite vibe: the Hitachi Massager. She knows this powerful vibrator will make her squirt and it doesn't disappoint. Enjoy as her tidy starburst butt hole clenches and contracts along with her pussy as the waves of pleasure roll over her body.
Endza Gives Sierra a Serious Orgasm
March 17, 2018




Endza and Sierra Cirque love to play together. Sierra brought her Hitachi and once it hit Endza's clit, the orgasmic buildup became a tortuous, sensual anticipation. Her legs start to shake uncontrollably and she grips her thighs as the pleasure builds. She finally has an intense moaning orgasm. Good job Sierra!
Belle's Masturbation Origins
March 13, 2018




Featuring: Belle
Average Rating: 6.00
Belle shares with us the origins of her masturbation habits and likes including the exciting feeling of potentially getting caught. She also confesses that she's loved her clit since she can remember. She still plays with it and gives it a good flick and rub whenever she has time. We love this girl. Truly the Belle of the ball.
FREE 3D VR PORN DOWNLOAD
Eden Rose Wet Orgasm in 3D
Eden Rose has discovered a new toy and it makes her pussy so wet. Enjoy her sensual orgasm as this 3D virtual reality porn video puts you right between her legs!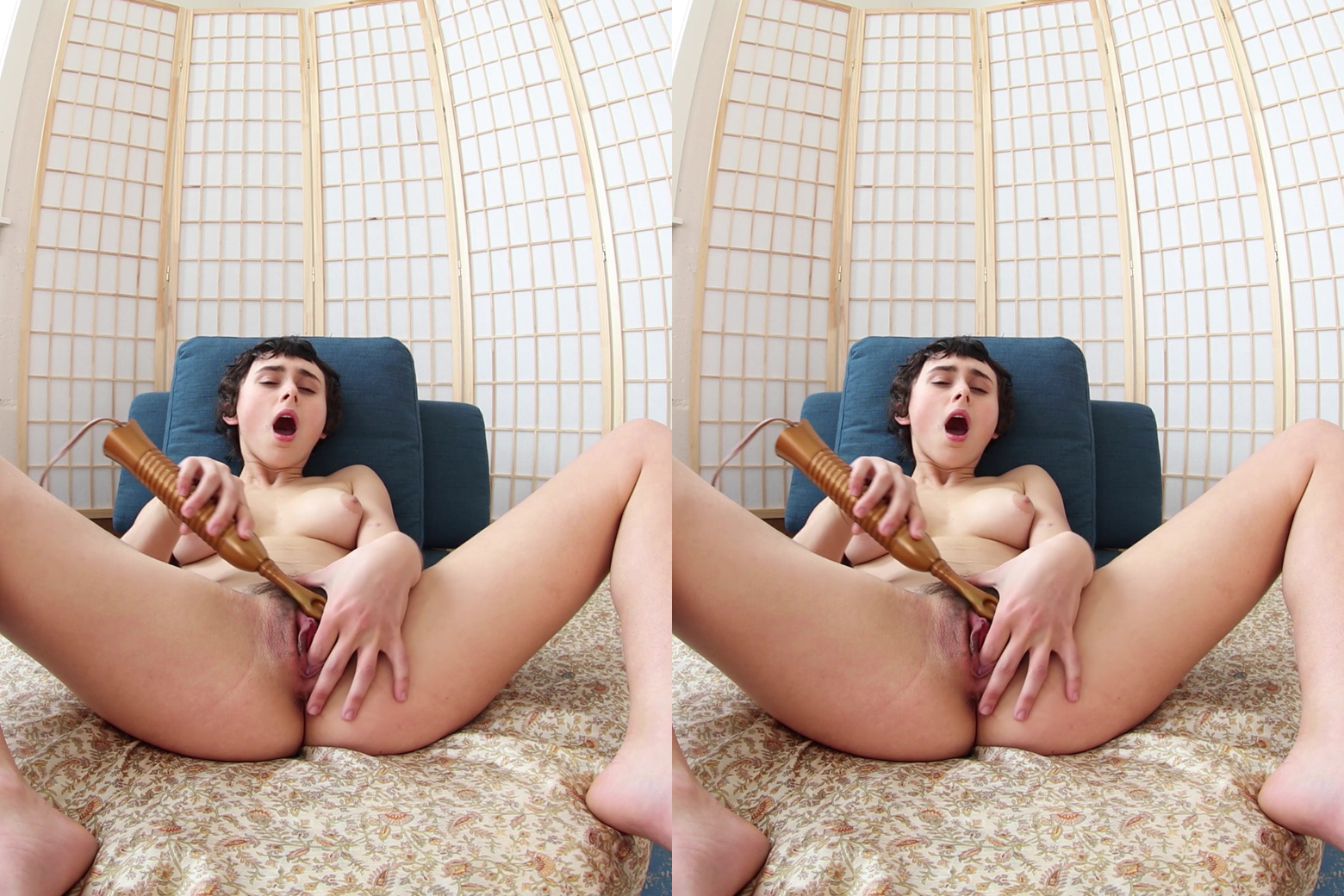 3D Virtual Reality lesbian porn is shot so that you can almost reach out and touch your favorite Yanks Girls. When she shudders with a toe-curling orgasm from a skilled lesbian tongue, you will experience it in 3D. The only way to get closer to the VR lesbian action is to be there. It's amateur orgasms up close and personal.
Andre Shakti's Lickable Labia
March 9, 2018




Andre Shakti likes it a little rough. Just watch her pinch and fondle her nipples. She's a touch more gentle with her clit as she rubs and massages herself to a sexy orgasm. You'll love her pink bits peeking out and her luscious labia that you will simply want to suck on.
Stephie's Squirt with Penny's Help
March 5, 2018




Stephie Staar learns about the power of the Hitachi in this spectacularly sexy video. Penny Lay works Stephie's clit with the amazing vibrator. Stephie has jolts of pleasure and finally takes over to achieve a much deserved intense squirting orgasm. Penny helps a bit massaging Stephie´s hole. The anticipation of her fabulous orgasm is incredible.